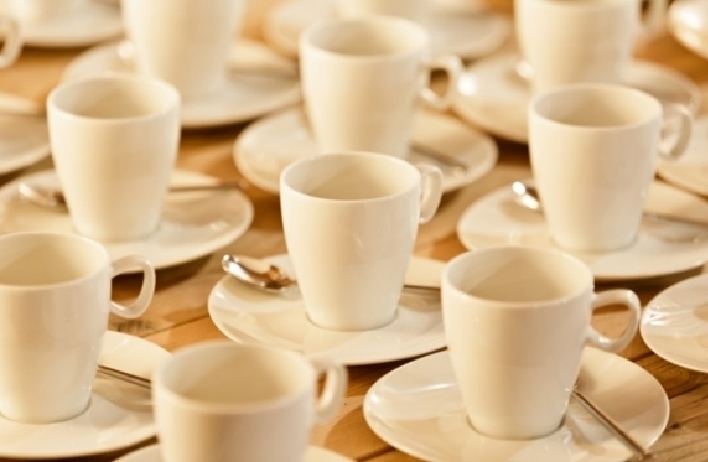 coffee...
...also called black gold (love in cups)
A freshly brewed coffee with foamed milk is a must at every trade fair stand. It is not only a hot motivational aid in the morning, but also a real customer magnet. The only question is: filter, fully automatic machine or professional barista with a multi-group portafilter machine?
Barista coffee enjoyment
Barista, the new coffee culture at star level. When freshly ground beans meet the perfect water pressure, the result is pure, absolutely perfect coffee enjoyment.
Every guest is catapulted into taste heaven by this coffee art.
Please plan for the baristabar incl. the barista equipment a counter area of 180-200 cm length and 80- 90 cm depth, a power connection of 16A for the right power, a fixed water connection under the counter for the direct connection to the coffee source and a hole in the counter with a diameter of about 8 cm for the gathering of the cables and hoses to the heart, the portafilter machine.
The prices here depend on the expected number of drinks per day. Therefore, we will gladly prepare an appropriate offer. For this purpose, please tell us your needs and we will offer you the corresponding total costs.
filter coffee
The coffee in our professional filter coffee maker is quick and easy to prepare. The first pot is ready brewed and remains hot for a long time due to the heating plate of the filter coffee machine. Thus, the next pot can be put on directly. Thanks to our local and high quality roaster and professional brewing machines, it tastes great.
The handling of the machine is very easy. We deliver the machine with two glass jugs and the coffee powder already pre-portioned in bags. In addition, the machine stands out because of its small footprint. Conclusion: 12 cups of black gold in under 10 minutes.
Kaffeevollautomat
You prefer coffee at the touch of a button and have space on your counter or kitchen for the machine, coffee sets and accessories? Then choose one of our various fully automatic coffee machines in various sizes and capacities. They offer a wide selection of coffee specialties with or without milk function. Depending on your needs, we can offer you the right machine for your expected number of visitors in different price categories.

We also offer all important supplements like coffee beans, espresso beans, milk and coffee utensils.
You don´t need a water connection for our fully automatic machines, just enough space for the machine and the accessories and in the best case a sink at the stand. With the modern designs they also fit on any bar.
Array ( [raum_gruppe] => Messe Hamburg [sprache] => 2 [sid] => 6730141bd54ba47bce35c65323c787e4 [merkliste] => Array ( ) [preis_gruppe] => preis_Messe )